Corporate Profile
YOUNG ENGG & CALIBRATION SERVICES PVT LTD(YEA GROUP)
YEA GROUP

OVERVIEW

:
Vision:
YEA Group will be the world class Engineering and Management solution provider for the Industries.
Mission:
By 2010 more than 100 parameters should be covered under NABL Scope. Open a branch out of Kolkata. 400 organisations to be certified through our consultancy. By 2012 covering all the major scope sector of NABL. operate from minimum three branches.
SERVICES

:
ADVISORY SOLUTION
Young Advisory Engg & Services Pvt Ltd (YEA), a Kolkata based leading organization of consultants, consisting of Lead Auditors, Engineers and Technocrats are ready to render their service for counseling, guidance and proper assistance to the aspiring businessmen, who eager to develop their product/ service to compete in the global market. YEA provides quality management consultancy in the areas that are most critical for your organization's success.We offer top-notch services to assist your organization in ISO 9001:2008 – Quality Management System, ISO 14001:2004 – Environmental Management System, ISO/TS 16949:2002, HACCP - Hazard Analysis and Critical Control Points, ISO 22000 – Food Safety Management System, ISO /IEC 17025:2005 – Competence of Testing & Calibration Laboratories (NABL) and OHSAS 18001:2007 implementation. We provide practical, easy-to-understand materials that are results-focused and based on solid quality principles. Our services are continually being developed by highly experienced professionals with over years in the quality field. Our training materials and samples have been refined based on feedback from applications in many of organizations with whom we have done business. YEA Services bring the required expertise "in-house" to educate employees on the purpose, value and techniques which will help drive continuous improvement throughout the organization From sole proprietorship to large nationals & institutions we apply the similar process & practical approach to gaining 9001:2008, 14001:2004, HACCP, OHSAS 18001:1999:1999, SA 8000 registration. While Directors and Managers may have the desire & ability to achieve formal recognition for their activities, they may not possess sufficient time or in-house knowledge of the requirements to economically progress towards registration. Dedicating consultants to individual projects, while maintaining the support of an organization: - "Our priority is to simplify Management Systems and demystify the entire certification process by creating concise, cost-effective systems." .
MEASURING THECONFIDENCE OF YOUR MEASUREMENT
Young Engg & Calibration Services Pvt Ltd is one of the first ranking calibration house in West Bengal, NABL accredited and ISO 9001:2008 certified laboratory. It was recent past, when our organization started its business and in the short span of time, we have started gaining reputation though slowly but very steadily. It is our pleasure to announce that our team for calibrating industrial testing / measuring machines and equipment headed by qualified and experienced staffs has spread its activities covering the fields of dimensional, Electrical, Weights & Measures & also Process Parameters like Temperature, Pressure, Force and in other areas. Being a member of YEA Group, renowned in the field of consultancy for management system, we feel that industrial awareness in respect of quality assurance, needing very much the accuracy of testing/ measuring equipment, demands periodic calibration of instruments. YEA stands guarantee for presenting any industry with their testing instrument calibrated by reference standards with traceability to National Standards and International Standards Our service includes both in-house and at user's premises, depending upon volume of work assigned by clients. In fine, We can now proudly declare that our expertise now can be offered for calibration of any instrument even most sophisticated ones falling within our scope. With our well equipped laboratory, properly maintained and our sincere and time bound quick service, we would like to offer our services with assurance of getting you full satisfaction.
ENQUIRY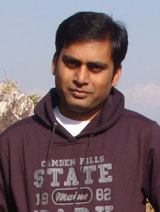 Dwaipayan Samanta